Motorcycle Protector Bag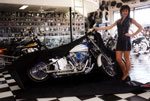 The Motorcycle Protector Bag
contours & completely encloses any motorcycle for indoor / outdoor storage protection & travel. Aids in the prevention of corrosion caused by rain, moisture, salt air, snow, dust, pollution, birds and spider webs.
The Motorcycle Protector Bag is made of durable 600 Denier Polycanvas (heavy-duty backpack material). The inside is lined with Poly-Vinyl Chloride (PVC) making the bag waterproof, yet breathable. It utilizes dual, heavy-duty, nylon zippers which allow for easy opening and closing.
Tie down slots (2) in front, (2) in the back of the bag for towing your motorcycle on a trailer or truck. Custom floor allows for ABS plastic inserts (included) to be placed in the four slotted compartments (optional).
Designed for indoor and outdoor use. Excellent for storing on the street, garage, parking lots, carports, beach, sporting events, Harley Rides, Laughlin, Sturgis, Daytona, etc. The bag conceals your motorcycle from potential burglars. The bag can even be locked to the motorcycle for added security.
(L100" x W38" x D60").
Custom bags can be designed and silk-screened for motorcycle clubs, businesses, shops, etc.
---
Homepage • Products • Reviews • About Us
Order Online • Dealer Information • Contact Us
© 2013 Rome Bike Bags. All rights reserved.
888-ROME-BIK • 888-766-3245
http://www.bikebags.com • rome@bikebags.com
site credits